Tas Cru and The Tortured Souls are returning November 10 at 8:00 PM. Tickets are available at $32 online or at the Darling Insurance box office.
Tas is releasing a new album just around the time of his Peterborough appearance.
Raucous, rowdy, gentle, sweet, eccentric, quirky, and outright irreverent are all words that fittingly describe Tas Cru's songs and testify to his reputation as a one of the most unique of bluesmen plying his trade today.  It's not for nothing that Cru has received wide praise for his songwriting.  As Downbeat magazine notes, "His songs are blues poetry – crafted with rare verbal flair and his ability to cast a memorable hook is magical!" Bruce Iglauer, founder and president of Alligator Records calls Cru "a rare, real writer."  Live, these songs are performed with power and passion as observed by Living Blues magazine, "The vivacity and sheer joy with which Cru plays is intoxicating!"
The last time here they got multiple standing ovations for a tremendous concert.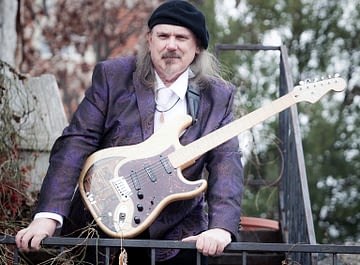 Living Blues Magazine says . . . "The vivacity and sheer joy with which Cru plays is intoxicating and his ability to cast a memorable hook is magical"
More details at http://www.tascru.com/bio/