Swim to Survive is a FREE drowning prevention program offered by the City of Peterborough's waterfront lifeguards at Beavermead Beach.
This program is offered to children 5 to 12 years old.
This program teaches and evaluates the following basic fundamental skills necessary to survive an unexpected fall into deep water:
Roll into Deep Water
Tread Water for 1 Minute
Swim 50 Metres
The program takes place on Saturdays from July 8 to August 5 2017. Check out the Swim to Survive Flyer for class times.
Registration:
Call the Recreation Division at 705-742-7777 ext. 1873 (Monday to Friday, 8:30 a.m. to 4:30 p.m.) and register
over the phone
Stop by the Recreation Division at 210 Wolfe Street and register in person
Advanced Registration is Required!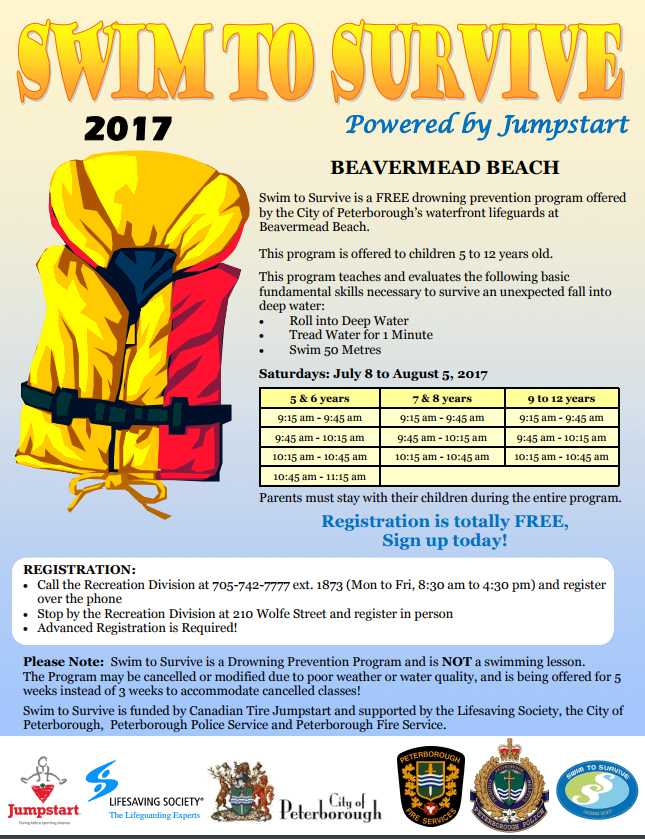 Please Note:
Swim to Survive is a Drowning Prevention Program and is NOT a swimming lesson. The Program may be cancelled or modified due to poor weather or water quality, and is being offered for 5 weeks instead of 3 weeks to accommodate cancelled classes! Swim to Survive is funded by Canadian Tire Jumpstart and supported by the Lifesaving Society, the City of Peterborough, Peterborough Police Service and Peterborough Fire Service.