The Sears.ca online store is now closed for business.
Sears Canada has a long and well-documented history of being a great place to shop and work. Sears thanks its customers for their loyalty and support since 1953, when it began serving Canadians coast to coast under its then corporate name, Simpsons-Sears Ltd. Sears also extends heartfelt thanks to its associates, both current and former, who helped build the Company into what was, for much of its existence, Canada's largest retailer, providing great value through quality products and exceptional services and outstanding prices. Sears earned a reputation of trust and goodwill by how its associates interacted with Canadians, including the Company's significant financial and moral support of community groups and charitable organizations that reflected the interests of Sears customers.

Over the past 18 months, Sears Canada had embarked on a reinvention plan that had begun to gain traction with customers. Unfortunately, despite the outstanding efforts of dedicated associates across the Company, Sears Canada does not have the financial resources to provide it with the time necessary to complete its reinvention. As a result, Sears Canada is winding down its operations and shopping is no longer available online. Please see below the list of stores currently open for liquidation. We appreciate having had you as a customer, and hope you find some great bargains for you and your family.

Sincerely,
Your friends at Sears Canada.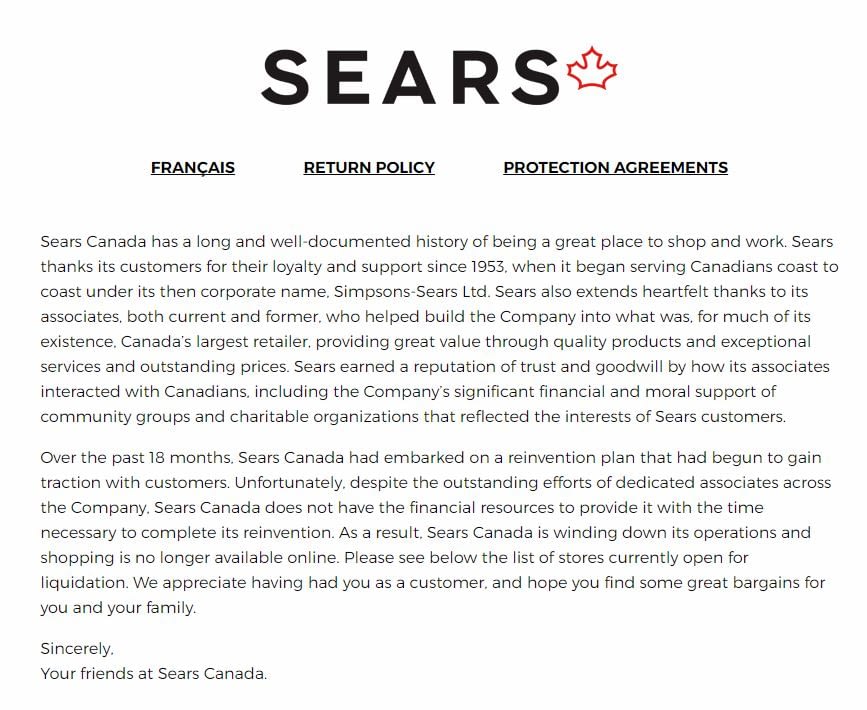 Further details of the liquidation of Sears Canada can be found HERE