"The Lodge" has served as an inspirational landscape and family getaway for internationally recognized Canadian painter and naturalist, Robert Bateman. This high-end log cabin has complete privacy and is surrounded by serene wilderness and gorgeous waterfalls. With 4 bedrooms on the main floor and a massive granite stone fireplace serving as the centrepiece for cozy gatherings – this bright, open-concept cabin is the ultimate getaway. Included are 3 separately deeded parcels with a total of 6.3 acres.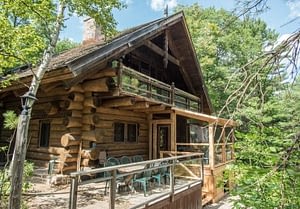 The following is a description of the property provided by Robert Bateman:
Our place on Buckslides is of all places in my life one of the closest to my heart. This of course is partly because it is full of fond memories. But it is also very special from an objective point of view
My memories go back to the 1940's when our family came to the South end of Lake Boshkung for July each year of World War II. We rented one of cottages owned by Clayton Rogers at Moorefield Acres. In those years a highlight ritual was to take a little skiff & our outboard motor to the mouth of Buckslides river which flowed from Lake Kushog. We then carried the makings of a picnic up a trail to the smooth sloping rocks at the bottom of the steepest rapids of Buckslides. We would sometimes play in the river & then cross over to a little side stream that came in to join the main river. A beauty spot was a charming little waterfall on this side stream.
Years later (1981), while staying at the family cottage on Boshkung I decided to do a painting of that little picturesque waterfall. Most of my art nowadays comes from different sources & I decided to place a dipper, a relative of wrens that lives in the Rocky Mountain area beside the waterfall. I had photo references of the river but I wanted to paint the waterfall on location in the "plein air" (as the French say). After finishing the waterfall painting I got up to stretch my legs & noticed a small faint trail leading up stream. Having never explored it, I followed it & came upon a little dam, partly made by beavers & partly man made. It held back a charming pond with cliffs plunging into it. The other side was gentle, sloping & open with a tiny cabin – a shed really. Too my shock there was a "For Sale" sign. On an impulse my wife Bridget & I decided to buy it & the land around it to protect it from commercial development.
In the following year, during one of my book singing appearances, a former student showed up & told me her friend (also a former student) Tom Kinn who lived near Bracebridge & was making a career out of building very special log houses. we connected & he described his method of using large white pine logs of which he hollowed on the bottom & fitted together by screwing. The fit was so tight that no chinking was required. Tom selected each log while it was still a live tree in a forest South of Huntsville. The whole house is traditional post & beam construction. Tom said that it will stand as long as the ancient pyramids provided that the roof is good. The roof is of cedar shakes with new skylights to bring brightness into the interior.
The fireplace is very large & built on the plan of the "Rumford" fireplace which was designed by "Count Rumford", a contemporary of Benjamin Franklin. It draws well, throws the heat into the room & gives a good presentation of the fire itself.
Our washing water comes from our pond by automatic pump. Our drinking water we fetch from the public water source at the Stanhope Airport.
Source: http://www.teamhaliburtonhighlands.com/cottages/robert-batemans-scenic-lodge-1262-buckslide-road-carnarvon