Local artists have partnered up with Under One Sun to create a unique fundraiser to benefit Haitian Artists!
Local artist Brianna Gosselin has called upon fellow local artists to bring a creative line up of workshops to benefit Haitian Artists. Each workshop is 2 hours long, is $50 and  features a different local artist and project, with all materials and supplies included. Students will have the opportunity to learn new techniques and mediums, create a beautiful work of art while supporting local artists and Haitian Artists. Local artists include; Lisa Martini-Dunk, Anne Cavanagh, Anne Cavanagh and Brianna Gosselin, each artist will be teaching in their preferred medium and style.
All proceeds from these workshops will directly benefit the Haitian people by funding the the artists' program supported by Under One Sun.
This funding will provide the necessary tools and education to train new artists in Haiti, making employment, and a brighter future, a reality.
"We are on a mission to create jobs for artisans in Haiti. Sustainable jobs. Jobs to help them feed, educate and house their children." Explains Stephanie, owner and operator of Under One Sun, located in downtown Peterborough. "We have an artisan centre in Goniaves Haiti, this is an area with very little opportunity. On Nov 30 we will be travelling from Port Au Prince to Goniaves with metal artisans armed with the tools of the trade to help train new artisans and create jobs where there has not been any. "
'Bringing education, tools and a new trade will make a huge impact for generations to come.' Kathy Brooks, founder of the artisan centre. "When I spoke with Kathy about this project she got emotional and spoke of gratitude." – Stepahnie
"We need your help. We will be fundraising for this exciting and life changing project. Financial needs include, tools of the trade, support for the artisans who will be teaching, and travel (3.5 hour drive from Port Au Prince). Peterborough Artisans helping Haitian Artisans, this is a beautiful thing! We are so grateful of your support and look forward to seeing the works unfold."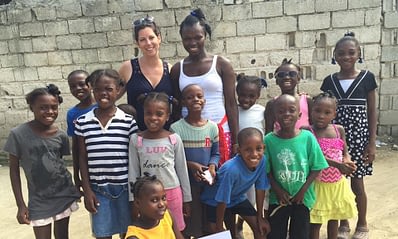 All skill levels are encouraged to attend these workshops, even if you have no previous art experience. These events are about enjoying a creative project while supporting a worthwhile cause.
Workshops will take place at Under One Sun, located at 386 George St, downtown Peterborough.
For more information and to register, please visit www.briannagosselin.com/UnderOneSun or phone 705-742-3221.
Scratchboard Workshop with Lisa Martini-Dunk
Sunday, November 20
10:00 am – 12:00 PM
$50
Drawing Workshop with Anne Cavanagh
Sunday, November 20
2:00 pm – 4:00 pm
$50
Painting Workshop with Shannon Taylor
Saturday, December 3
10:00 am – 12:00 pm
$50
Intuitive Painting Workshop with Brianna Gosselin
Sunday, December 4
2:00 – 4:00 pm
$50