Hang those patio lanterns high and go for a soda – iconic Canadian rock mainstay Kim Mitchell will celebrate Canada's 150th birthday at Del Crary Park, headlining Peterborough Musicfest's curtain-raiser, the first of 17 shows this summer.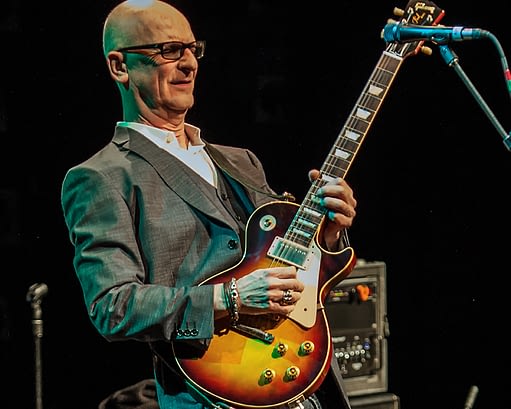 Few artists have inhabited the Canadian musical landscape as consistently and prominently over the last 40 years as the Canadian rock legend. His band Max Webster, founded with fellow Sarnia native Pye Dubois, saw significant success in the late 70s and 80s with its albums garnering gold and platinum status. The band became a staple on the Canadian tour scene as Mitchell and his mates honed their craft. When iconic rocker Gene Simmons was asked if Mitchell's outfit should open for his act, the long-in-the-tongue KISS frontman rejected the notion, not because he didn't like Max Webster, but because "We were terrified of you guys, you could actually play."
It wasn't until Mitchell went solo in 1982 however, that the talent Simmons saw began to yield results on an international scale with the album Akimbo Aloga. The hit single "Go For A Soda" climbed to number 12 on the US pop charts, landing an appearance on an episode of the wildly popular 80's drama Miami Vice and was featured on a soft drink commercial for Mr. Pibb. Mitchell even appeared on an episode of the The Kids in the Hall, in which he instructs an elderly on how to play guitar.
The follow-up album, 1986's Shakin' Like A Human Being, was his most successful and featured memorable tracks such as "Easy To Tame", "Alana Loves Me", and the incomparable "Patio Lanterns."
Kim has remained a popular live act over the years not only because of his great talent and 1.5 million albums sold but because of his approach. "I'm all about customer service. People are coming out to hear certain songs and hear me playing them. But they have been morphing and going through some changes. So "Go For A Soda" sounds a little different the way we play it on a given night. And we will start to jam out on some of the songs and be a little freer with the arrangements. I like to give people what they want."
Mitchell is known as someone who wears his patriotism on his sleeve and isn't it fitting that the three-time Juno Award winner will lead off the concert series on Canada's 150th birthday, making his fourth appearance on the Fred Anderson stage.
website: www.kimmitchell.ca