4th Line Theatre's Managing Artistic Director Kim Blackwell invites members of the community to join her for an evening of spooky reminiscences and ghost stories, with an eye to creating a Halloween-style show.  Fresh off of their wildly successful performances in The Bad Luck Bank Robbers, Paul Braunstein and Monica Dottor are teaming up to create a play which derives from local stories of ghosts and recollections of eerie occurrences. Please join 4th Line and bring your best ghost stories, local legends, personal experiences, recollections and photographs.
Community reminiscences are an important part of 4th Line Theatre's New Play Development Program and its ongoing historical research.  This public reminiscence will take place on Tuesday, November 3rd, 2015 from 7:00 pm to 9:00 pm at The Pastry Peddler, located on 17 King St E, Millbrook, ON.
Managing Artistic Director Kim Blackwell stresses the importance of these events to 4th Line Theatre's mandate, "Reminiscences give us first-hand accounts of our history and are an essential part of developing our plays.  Without this research our productions would not have the historical authenticity and realism our patrons have come to expect from us." Past productions developed through reminiscences include Doctor Barnardo's Children, Schoolhouse, and Alex Poch-Goldin's The Right Road to Pontypool, and the hugely successful 2015 premiere of The Bad Luck Bank Robbers inspired by Grace Barker's book "The Bad Luck Bank Robbers."
­­­­­­­­­­­­­­­­4th Line Theatre is committed to preserving and promoting our Canadian cultural heritage through the development and presentation of regionally-based, environmentally-staged historical drama.
BIOGRAPHIES
Paul Braunstein
Paul's previous credits include Infinity, Kilt – Dora Award nomination, Midnight Sun, Well (Tarragon Theatre); The Last Days of Judas Iscariot (Birdland Theatre); Laurier (VideoCabaret); Picasso at the Lapin Agile (Belfry Theatre); Oliver Twist (Alberta Theatre Project); Mother Courage and Her Children (Caravan Farm Theatre); The Overcoat (Canadian Stage). Film and TV credits include: "Train 48," "History Bites," "Rub and Tug," "The Tuxedo," "The Thing," "Jesus Henry Christ," "Saving Hope," "Rookie Blue," "Haven," "Heartland," "The Lizzie Borden Chronicles." He is also an accomplished drummer.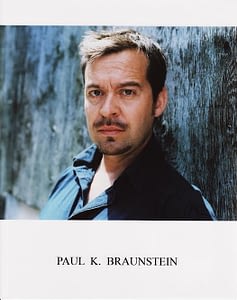 Monica Dottor
Monica is an actor & choreographer. She was nominated for a Dora Award for her choreography in The Penelopiad and received a Dora Award with the ensemble. Most recently, played the lead in the feature film The Shape of Rex (Factoria Films) and was featured in Picture Day (Snitch Pictures- TIFF selection) & choreographed and acted in PETRICHOR (Kitchenband/Summerworks), Recent Theatre (acting): The Trolley Car(Summerworks),The Middle Place (Canadian Stage/Belfry/GCTC) Featuring Loretta(Factory), The Red Queen Effect (NextStage), SCRATCH (Factory-Dora Nomination – Performance), A Midsummer Night's Dream (CanadianStage), The Overcoat (CanadianStage/San Francisco Critics' Circle Award, Dora Nomination Ensemble Performance), Chekhov's Heartache & Chekhov's Shorts (Smith-Gilmour), Recent Choreography:  MALARIA LULLABY (Company Blonde), CRASH (Theatre Passe Muraille), The Middle Place (Canadian Stage/Passe Muraille/Belfry/GCTC), 2010 Dora Mavor Moore Awards, The Red Queen Effect.